The Band
Silent Nightmare makes driving, metal-infused alternative rock songs that strive to be as catchy as they are dazzling. Tara Duhan's ethereal bel canto soprano floats, weaves and penetrates through deftly-arranged layers of textured aggression. Formed in early 2011 by Tara with drummer Tim Araujo, the last year has seen more focus on songwriting and cohesion, guided by the contributions of guitarist Aleks Jevtic, bassist Sonja Petrovic, and keyboardist Julian Berke. Currently, they are planning their next tour in 2013.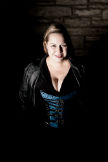 voice: Tara Duhan
Tara was imbued somehow with a pure-toned, full-throated powerful soprano voice destined for opera. But she didn't want to sing opera, damn it, she wanted to be a rock n' roll singer. Now, much to the amazement of her vocal teachers and innocent audience members, her voice shimmers and growls through amplification amongst blaring guitars, drums, and synthesizers. But she's still a down-to-earth Midwestern girl just having a good time, thank you very much. And she doesn't really need that microphone to be heard, you know.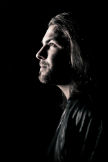 drums: Tim Araujo
Tim is not one of those guys who shuffles around on various pots and pans to make some vague ironic statement. He enjoys playing his drums hard, loud, and from the fucking heart. After years of studying the pyrotechnics of Nightwish, Within Temptation and Sonata Arctica, he now finds himself the youngest and least jaded member of Silent Nightmare. This is his first band, and he provides the vigor and the proverbial foot in the ass to keep the proceedings real. Tim is a native of Connecticut, and when he's not infusing his brand of chaos at the local sci-fi convention, he'll cook you up a mighty tasty Portuguese sausage.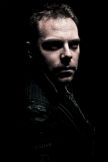 guitar: Aleks Jevtic
Aleks has it all figured out. It may seem easy as his guitar roars and sings while he winks from the stage under the bright lights, but he actually has developed his original sound through hard work, dedication, and an extensive series of bar graphs and PowerPoint analyses. Aleks studied classical guitar in Belgrade, Serbia and at the Royal Conservatory of Music in Toronto, Canada. Parallel to his classical studies he pursued his love for the electric guitar in numerous rock bands in Serbia, Canada and subsequently Chicago, establishing his credentials of power, influence and World domination.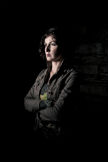 bass: Sonja Petrovic
Sonja does not have time for bullshit. She was studying classical guitar in Belgrade, Serbia and Chattanooga, TN, singing in Mahler symphonies, and pursuing her PhD in applied algebraic geometry while you were just standing around. Now she plays her 1992 cedar Gypas classical guitar on the side, and intones her finely crafted melodic approach to the bass guitar. She enjoys listening to tango and flamenco, shopping in Barcelona or Stockholm, and gardening. Preferably all at the same time.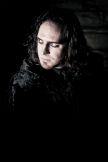 keys: Julian Berke
Julian is a self-taught pianist, electric keyboardist, independent producer, composer, songwriter, sound artist, sporadic bandleader, occasional percussionist, reluctant vocalist, and a few other things. He is opinionated, eccentric, and borderline intolerable. A native of Miami, Florida, he now resides somewhere in the South Side of Chicago where he plays Thelonious Monk on the piano and reads David Foster Wallace to his cat.